Wheeling History
Wheeling History Quick Links
Wheeling History Menu | Comprehensive Histories | History Site Info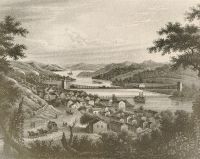 The Ohio County Public Library houses a substantial collection of material related to the rich history Wheeling and the surrounding area have accumulated since settlers first arrived in the 1700s. In addition to the collection of local and regional history books located in the Wheeling Room, the library maintains an archive of photographs, ephemera, musical recordings and a vast assortment of other materials preserving our area's unique and diverse heritage.
---
---
---
▶ Photographic collections
▶ Postcards
▶ Maps
▶ OCPL archival collection indexes
...and more

▶ Genealogical resources
▶ Local & regional history books
▶ City directories
▶ Family histories
...and more

ARCHIVES

▶ Explore now

WHEELING ROOM

▶ Explore now
▶ Wheeling biographies
▶ The Wheeling Memory Project (video interviews)
▶City Ethnicities
...and more

▶ Architecture
▶ Landmarks
▶ Businesses
▶ Churches, Cemeteries & Schools
...and more

PEOPLE

▶ Explore now

PLACES

▶ Explore now
▶ Riverboats
▶ Railroads
▶ Bridges
▶ National Road
...and more

▶ Statehood
▶ Floods & other disasters
▶ Wheeling at War
▶ The Arts
▶ Sports & Recreation
...and more

TRANSPORTATION

▶ Explore now

EVENTS

▶ Explore now
---
ABOUT THE OCPL WHEELING HISTORY WEBSITE
The materials on this website may be freely used by non-commercial entities for educational and/or research purposes as long as credit is given to the Ohio County Public Library, Wheeling WV. Content within these pages cannot be reproduced in any format for profit or other presentation without the permission of The Ohio County Public Library. To obtain permission to publish these images, contact us through our Ask a Librarian form.