Magazines
---
e-Magazines: Download magazines to straight to your device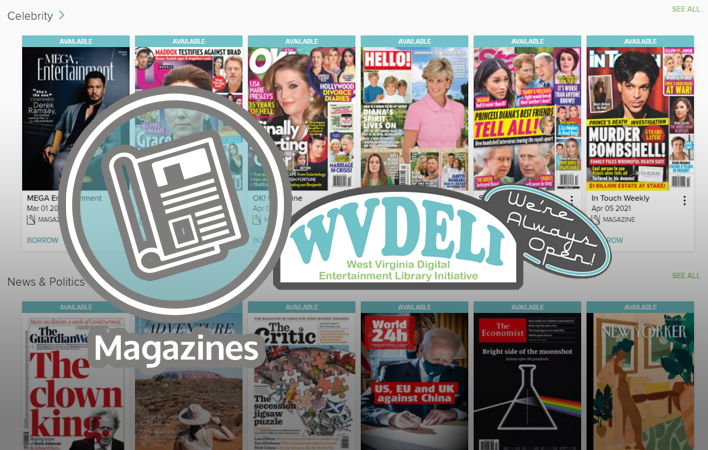 Digital Magazines on WVDeli allows you to download full-color, digital editions for instant desktop reading, mobile streaming, and mobile-app download. Select both new and back issues, adding them to your personal reading libraries with no holds, no checkout periods, and no limits to the number of magazines checked out. With over 1000 titles, there's a magazine for everyone!
➤ Start downloading magazines through WVDeli/Libby!
NOTE: WVDeli audiobooks, ebooks, and streaming video are available on your smartphones through the Libby app (for iPhones: App Store | for Android phones: Google Play).
Magazine types available through WVDeli/Libby:
➤ Home & Garden: 189 titles
➤ Sports: 149 titles
➤ Health & Fitness: 141 titles
➤ Hobbies & Crafts: 172 titles
➤ Food & Cooking: 114 titles
➤ Celebrity: 68 titles
➤ News & Politics: 62 titles
➤ Travel & Outdoor: 70 titles
➤ Family, Parenting, & Kids: 21 titles
➤ Movies, TV & Music: 135 titles
---