OCPL Kids!
---
Kid's Department Quick Links
Children's Programming | News | Follow Us Online! | Online Resources for Kids
---
The Children's Department of the Ohio County Public Library is the place to read, play, learn and grow! Here you'll find everything for children from birth through age twelve as well as for the adults who work and play with them.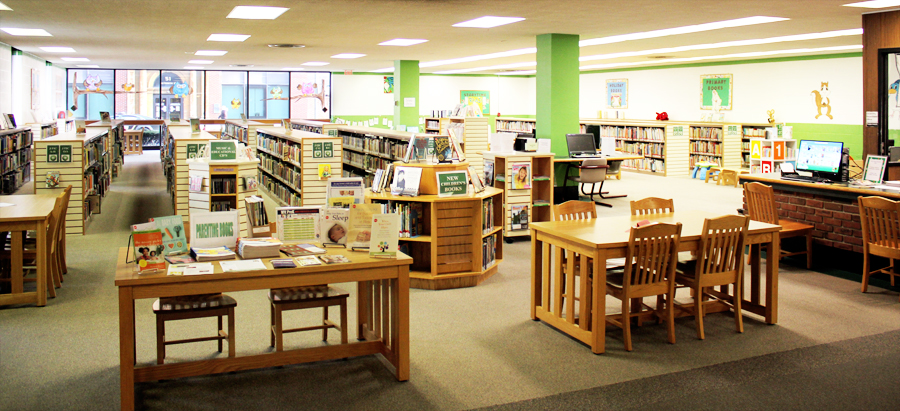 Our collection boasts over 35,000 items including books, magazines, music CD's, DVD's, and more. Special programs are scheduled throughout the year.

---
Children's Programming at the OCPL
▶ Story Time: Step Into Stories

The Children's Department has launched a new program series, "Step Into Stories". These high-quality, free Story Time programs are offered every Tuesday and Wednesday at 10:00 AM.

Story Time programs introduce young children to books, rhymes, songs, crafts, and other fun activities. Library Story Times incorporate the early literacy skills that children must master before they can learn to read. Story Times are designed for children 3-5 years old, though all ages are welcome. The program lasts approximately 45 minutes and caregivers are asked to participate with their children. Story Time is held in the Children's Department.

▶ Learn more

▶ Toddler Time: Mother Goose on the Loose

Mother Goose on the Loose is a fun-filled thirty-minute interactive program that uses rhymes, songs, puppets, musical instruments, and more to stimulate the learning process of babies and toddlers. It is a proven method for planning and presenting programs that focus on the whole child. Join us for this special program every Friday morning at 10:30 AM in the library auditorium.

▶ Learn more
---
What's coming up with OCPL KIDS?
▶ Summer Reading Program 2019: "A Universe of Stories"

We are excited to announce the theme of the 2019 Summer Reading Program, "A Universe of Stories." In the summer of 2019, the Ohio County Public Library will be one of many libraries across the country to celebrate space exploration in their summer reading programs. The slogan "A Universe of Stories" was chosen by library professionals to help inspire children of all ages to dream big, believe in themselves, and create their own story.

Stay tuned for dates and programs coming Summer 2019!
---
Follow us online!
---
Online Resources for kids
| | |
| --- | --- |
| | Do your tech-savvy kids love e-books? Check out the eReading Room for KIDS at WVDeli. Your kids can download 100s of children's e-books and audio books with their library card! |
---
OCPL Departments Home | OCPL Home Page

Library-Sponsored Programs Policy
The purpose of Ohio County Public Library-sponsored programs is to provide education, information, and entertainment for library patrons. The Library reserves the right to exercise sole discretion in selecting and inviting presenters for its programs. In selecting presenters, the Library does not discriminate on account of race, color, age, sex, sexual orientation, physical or mental disability, political affiliation, religion, ancestry or national origin, and the views expressed by presenters of Library-sponsored programs, or by any person in attendance at the programs, do not necessarily reflect the views of the Library, its staff, and /or its representatives.