Newspapers
---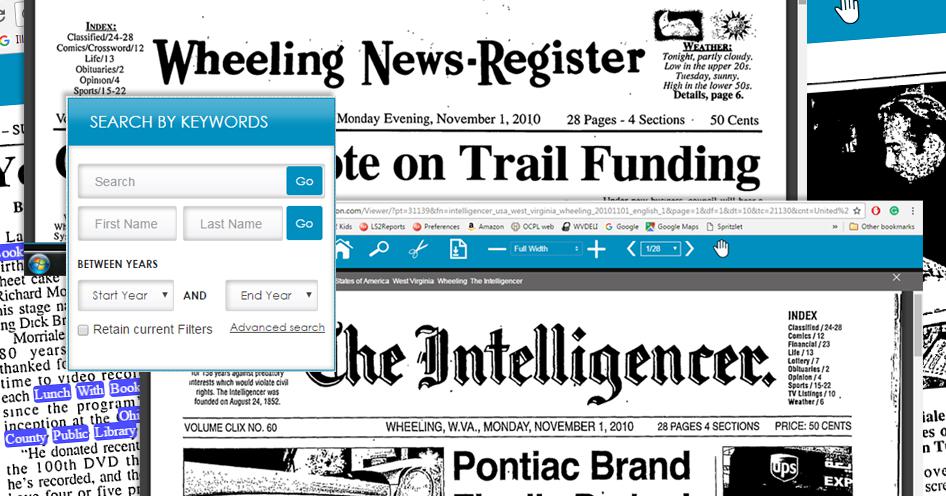 The Ohio County Public Library is now digitizing the microfilmed versions of our Wheeling News-Register and The Intelligencer newspapers. Click here to view our microfilm collections.
We now have the entire run of the Intelligencer newspapers from 1852-present online. We are currently digitizing the News-Register and the years 1863-1920 are now online with many of the Sunday editions available to the present. More dates will be added to our collection as we continue to process our microfilm.
Digital newspapers from Wheeling preceding 1922 are also available through the Library of Congress's Chronicling America website (see below).
NOTE FROM THE ADVANTAGE ARCHIVES TEAM: We apologize for the recent instability that you have been experiencing. Several months ago, we identified a number of infrastructure needs to keep up with our growth, and began the process of upgrading and adding equipment to our environment. These hardware upgrades will provide greater uptime, faster performance, and more stability. They will also allow us to introduce new and exciting tools and updates.
We appreciate your patience as we perform these upgrades. We know they will provide a significant improvement to your Community History Archive. -The Advantage Archives Team
---
Understand the world. Navigate life. Access The New York Times here.
Whether you're managing finances, tackling tough parenting problems or simply looking to make sense of this moment, rely on our original, quality journalism to lead the way.
Enjoy access to The New York Times, compliments of the Ohio County Public Library.
It's an essential source for fearless reporting, varied perspectives and practical advice on nearly every topic — from the vital issues shaping our world to the simple pleasures that make everyday life better.
---
Activate your access to New York Times Cooking, compliments of the Ohio County Public Library.
Activate your access to NYTimes Games, compliments of the Ohio County Public Library.
---
Chronicling America: Library of Congress Newspaper Archive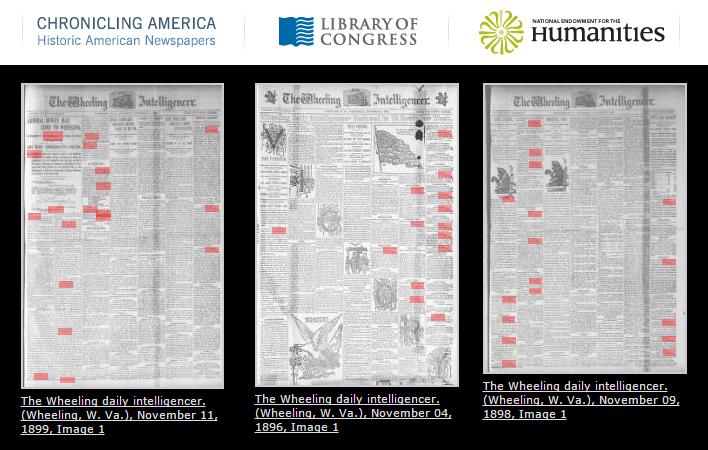 Search America's historic newspaper pages from 1789-1924 or use the U.S. Newspaper Directory to find information about American newspapers published between 1690-present. Chronicling America is sponsored jointly by the National Endowment for the Humanities and the Library of Congress.
The Wheeling Daily Intelligencer is available through Chronicling America from 1852-1922, the Wheeling Daily Register from 1863-1897, theWheeling Repository (weekly) from March 1807 to May 8, 1808, the Virginia Statesman, (weekly) from January 1928 to June 1929, the Wheeling Compiler (weekly) from July 1829 to December 1830 (some issues missing), and the Wheeling Times and Advertiser from 1840-1848. To find Wheeling papers, click the "Advanced Search" tab and either select by state or by newspaper.
---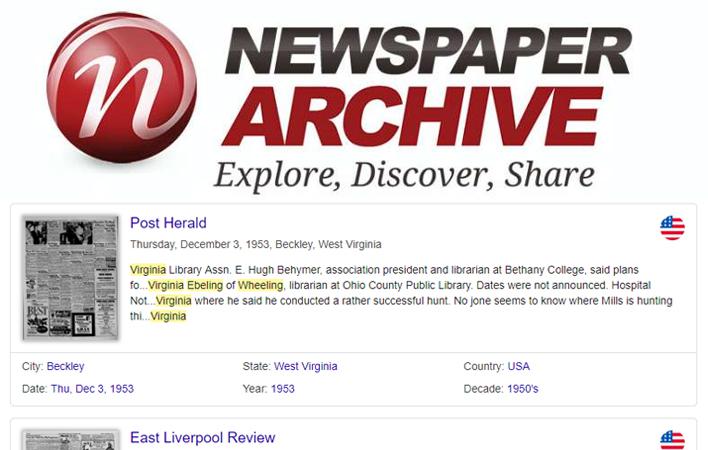 NewspaperARCHIVE.com is the world's largest online newspaper archive that spans more than 400 years of family history, small-town events, world news and more. Many newspapers from towns in West Virginia, Eastern Ohio, and Western Pennsylvania are available. Selected dates are available for The Virginia Statesman (1828-1829);
The Wheeling Repository (1807-1808); Wheeling Compiler (1829-1830); Wheeling Daily Intelligencer (1852-1900); Wheeling Daily Register (1863-1878); Wheeling Intelligencer (1911-1922); Wheeling Register (1878-1897); Wheeling Sunday Register (1882-1897); & Wheeling Times And Advertiser (1840-1848).
NOTE: To access NewspaperARCHIVE, you must first log in to your account on our card catalog. You will only be able to access this from a desktop or laptop computer. From our card catalog, click the "Log In" button and enter your library card number and 4-digit PIN (first four letters of your last name all in lower case letters). Once logged in, click on the downward arrow at the top of the page next to your name. From the dropdown list, click on NewspaperArchive.com. This will take you to an account summary page. Look for the NewspaperArchive.com link and click on it. This will take you to https://access.newspaperarchive.com/ where you will be able to start searching newspapers.
➤ Login to the OCPL card catalog to access NewspaperARCHIVE.com
➤ I am at the Ohio County Public Library and would like to start searching NewspaperARCHIVE Library Edition.
---